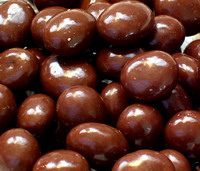 Chocolate covered coffee beans sound like a kind of a candy. Did you ever try these delicacies or do you want to try preparing it at home? If yes, then I can gladden you: everything is possible until you are eager to do this. But before you start covering your fresh roasted coffee beans with chocolate and enjoying a cup of a delicious chocolate coffee afterwards, learn several tips about the procedure.
First, buy freshest coffee beans possible. You may buy already roasted beans or try roasting green coffee berries at home. It's you to decide whether you have enough time, experience and patience to roast them by your own.
Second, decide on the type of the chocolate you wish to cover your coffee beans with. A small tip: choose a dipping chocolate. It is very easy to work with and perfectly covers the beans. Sometimes this type of chocolate is hard to find but it is worth searching for it if you really wish a good work to be done. As for the chocolate flavor, it's you to choose what kind of it you prefer the most – whether it's a milk, dark, semi-sweet or white chocolate.
If never melt chocolate at home before, then those tips would be very useful to you. Read them carefully:
Use low temperature only and don't forget to stir often
If you decide to melt chocolate in a microwave, cook for 1-2 min, keeping your eyes on the procedure and stirring the contents from time to time.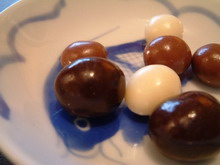 You can also use a steam cooker, placing the chocolate in the top pan with water in the lower pan.
The melted chocolate should contain no moisture in it, otherwise it forms lumps. If it still happened, then you should add one tbsp of shortening per square of the chocolate mass and stir until it gets smooth again
If you don't wish to burn your fingers while covering the beans with the melted chocolate, cool it.
Here are some recipes to cover coffee beans with chocolate taken from different sources. Hope they will be useful for you!
Recipe 1:
1 cup coffee beans
1 1/2 cup chocolate chips OR equivalent in chocolate chunks
3 tbsp cocoa powder (optional)
Melt chocolate in the top of a double boiler. For best results, use a good quality boiler.
Melt the chocolate in the top of your double boiler.
Place 1/3 of the coffee beans in the melted chocolate. Stir around until coated. Remove your coated coffee beans from the chocolate and place on wax paper. Do not allow them to touch each other. Continue coating your coffee beans until all are finished.
If desired, roll your chocolate covered coffee beans in cocoa powder before they harden.
Let your chocolate covered beans harden overnight. If you are in a hurry, put them in the freezer for half an hour.
Store in an airtight container.
Source: Best-Chocolate-Recipes.com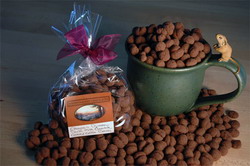 Recipe 2:
1/3 cup roasted coffee beans
1/2 cup chocolate chips
Melt the chocolate in a double boiler until liquid and smooth. Drop in a handful of beans, and stir them around. Scoop them out with a spoon, and set them out on waxed paper. Keep them separate. Continue until all the beans are covered.
They will harden overnight, or if you are in a hurry, you can freeze them for about half an hour. Once hard, they won't stick together and can be stored in any air-tight container.
Source: About.com
See also:

Coffee Statistics
Coffee Storage
Coffee video
Did you know?
Equipment
FAQ
Flavored Coffee
Glossary
Specialty Coffee
Tips on using coffee grounds at home