How many ways of preparing coffee do you know? It's evident that you know how to brew it with sugar and milk and may be some other variants. But do you know that there are a lot of different ways of preparing coffee and pastry from it that some of them don't even come to your mind? Well, here we gathered some of the worldwide receipts that will catch your attention for sure and perhaps will become one of your favorite.
The recipe from below is given in order to remind how is usually prepared a classic cup of coffee :
A Standard Coffee Recipe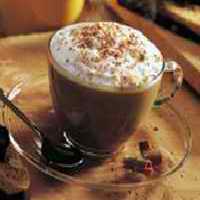 For each cup:
1 tablespoon coffee
1 cup water
Directions
Put coffee in percolator strainer.
Put water in percolator.
Bring water to boiling point, allowing it to splash over the strainer slowly.
Let coffee percolate until desired strength is reached.
Here we have gathered one of the most popular and universally known coffee recipes grouped by some specific names:
If you have something to add to our recipe list, please visit our forum's topic Coffee Recipes. We will be very glad to see your posts there!
See also:

Blending
Brewing
Cupping
Flavored Coffee
Gourmet Coffee
Grinding
Latte Art
Roast Process