As we all know very well, coffee can be packed in various ways: tins, paper bags and jars. There are both adherents and opponents of each way of packing but let's talk about paper bags.
Did you know how many names and varieties of paper bags there are in the coffee world? Quite a lot, believe me.

Gusseted Bags: this type of bag is the most favorite among coffee selling companies. Its deceptive economy size contains much more coffee than it seems at first sight and is very convenient when in use.

Flat Pouches are very simple in production and use. They are tiny, are able to storage enough coffee and are very suitable and easy for packing.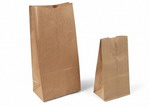 Paper Bags are similar in design to the Gusseted Bags. They are as stable, can be easily stored on the shelves of a coffee store and are supplied with tin ties which provide their repeated usage.

Roll Films are the best solution for an unusual form of packing. If coffee bags presented on the web are not enough beautiful, original for you or the dimension you seek for is not there, you can always ask for an individual packaging which is possible with the availability of various types of roll: metallized and foiled materials of numerous colors will surely meet all your expectations.

Stand Up Pouches can be compared with the Gusseted and Paper Bags when talking about their stability and ability to be stored of a countertop without an additional help. These are Ziploc pouches which can be used more than once.
No matter what you choose, make sure this type of packaging is the most convenient to you, and only you. :)
See also:

Coffee business
Coffee gift
Coffee Pods
Coffee shops, Coffee houses and Cafes
Coffee tables
Coffee to Go
Coffee Tourism
Coffee trade
Famous Equipment Brands
K-Cup
Liquid Coffee vs Coffee Syrups