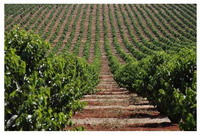 Travelling is always fun - seeing other countries, their sights and other people would surely bring most of us a lot of positivity and good spirit. Having a cup of your favorite coffee sitting next to a beautiful ocean or somewhere high up in the mountains is divine. But just imagine: besides enjoying these beauties, also could visit places and farms where coffee is grown. I'm sure you'll like the idea but before rushing to pack your things, let's discuss what countries should be visited first.
Since Latin America is our point of destination, here are some of its countries known for their coffee export:
Brazil
I'm sure you had a cup of Brazilian coffee at least once in your life. So the first country to be visited would be Brazil, especially such states as Sao Paulo, Minas Gerais and Parana which are the largest producers of coffee in the country. Besides watching farmers do their everyday job and grow/harvest/ process their coffee, you'll be able to visit some fincas (farms), usually hidden from tourists.
Colombia
Our next destination station won't be hard to guess. Colombia is next country after Brazil whose coffee is highly appreciated in the world of coffee addicts. The saddest part of this visit is the fact the coffee they sell in the country is low grade because their best coffee is exported to the US and European market. However there are some small farms that sell coffee to tourists only, so if you're lucky enough, you'll be able to take with you one of the best tasting coffee in the world.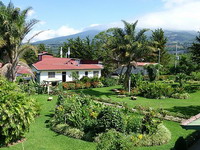 Costa Rica
An attractive place just due to its beautiful climate and nice friendly people, this country will have a lot to show to a true coffee lover. One of the must-visit places for coffee tourists should be a farm called "Finca Rosa Blanca Coffee Plantation and Inn" that is located in Santa Barbara of the Heredia province. Tourists will be able to observe the process of the organic coffee growth, picking, drying and processing. You'll be allowed to roast and pack your own coffee, as well as taste different brands they are manufacturing there. And this is the most fun part of all, I think.
Guatemala
Guatemala is considered the second country after Colombia to produce one of the highest quality coffees. There is a hotel on the Lake Atitlan where one can spend a night, have breakfast and a cup of coffee grown right in front of it, at the nearest coffee plant.
Nicaragua
There are lots of places in Nicaragua where coffee lovers could spend their time and even harvest coffee as per Fair Trade program. For example, Selva Negra is a coffee property in the Northern Nicaragua, situated in the highlands and run by the Kuhl family. This place is remarkable both for its immense coffee fields and eco-friendly atmosphere, as well as Mombacho volcano and Telica volcano of immense dimensions.
Panama
Boquete is a small town in Panama that will offer a special tour for real coffee aficionados. You'll be guided around 4 coffee plantations and estates, will do birding, hiking, garden tours, and a rain forest canopy zip line tree trek.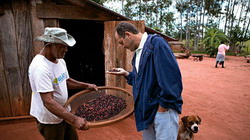 Peru
Lake Titicaca in Peru is widely known as a mythical birthplace of the ancient Inca civilization. Few people know it is a place where one of the best coffees in the region is grown. There is a little town in the southeastern region of Puno, the Sandia Valley, with a family-run small shop that sells unfamiliar brands of well-tasting coffee at a very attractive price. Your guide will show you the place because it became very popular recently.
See also:

Coffee bags
Coffee business
Coffee gift
Coffee Pods
Coffee shops, Coffee houses and Cafes
Coffee tables
Coffee to Go
Coffee trade
Famous Equipment Brands
K-Cup
Liquid Coffee vs Coffee Syrups