I've chosen to combine these two articles because even the two notions do not look like having something in common; they are both related to coffee and liquidity. Let's see how liquid coffee is prepared, whether it has something in common with coffee and where you can use coffee syrups.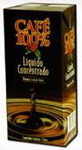 Liquid coffee is prepared from roasted coffee beans by extracting their flavor, taste and body. Just add some boiling water afterwards and your coffee is ready to be served. No worries about the roasting, grinding or choosing the way to brew it.
There are three sorts of liquid coffee concentration: frozen, chilled and ambient (occasionally called bag-in-box)
The frozen liquid coffee is transported and kept frozen, and is defrosted before serving. You should store such concentrate in a fridge.
The second type, called chilled liquid coffee, is stored and transferred at room temperature but is stored in a chilled or cooled place before usage.
And, finally, the third type of liquid coffee, called ambient, implies it needs no refrigerator or any other special place or conditions to be stored and shipped.
All three types can be found in one of three packaging: bottled, canned or bag-in-the-box.
Coffee Syrups
Every person chooses what to drink – coffee or tea, what type of coffee, the level of roast, with sugar or w/o, milk or creamer. And there are people (their number is constantly growing with years) who choose drinking plain coffee with various flavours, such as vanilla, peppermint, chocolate, orange and many others.
The flavor to chose is a personal preference of every individual and I wouldn't interfere but please don't forget to look for sugar content and preservatives used. For those who don't consume sugar for some reason or other, go for sugar free syrups which are invented by Senza.
As for the preservatives, please note that not all companies releasing coffee syrups use them in their products. So if you like storing a lot of them in you cupboard, that would be a major issue while choosing one in a store.
Such kind of syrups, besides their proper use, can be also used in baking as additional flavoring or even for sweetening plain water.
List of companies producing coffee syrups:
See also:

Coffee bags
Coffee business
Coffee gift
Coffee Pods
Coffee shops, Coffee houses and Cafes
Coffee tables
Coffee to Go
Coffee Tourism
Coffee trade
Famous Equipment Brands
K-Cup